THERMATEC Products - heat pumps, hydraulic cabinets, DHW and buffer tanks
SMART SOLUTIONS

Heat Pumps PLUS S LINE - NEW 2023

smart solutions
Inverter heat pumps THERMATEC PLUS S LINE combine all modern elements. Eco-friendly refrigerant R290, full DC inverter, quiet technology, modern design, these are just some of the advantages of these powerful heat pumps.
Check out our range of heat pumps and choose the model that suits your building.
TECHNOLOGY & DESIGN

Selected advantages of our devices:

TECHNOLOGY & DESIGN
01.

Smart Grid Function

Thanks to this function, it is possible to configure the heat pump settings in such a way as to maximize the use of excess electricity from the photovoltaic installation. An additional advantage is the option to take advantage of cheaper tariffs offered by energy suppliers.
02.

Control of heating zones

The ability to control two independent heating zones in the building, thanks to full control over circulation pumps and smooth regulation of the mixing valve.
03.

Heating curve function

The ability to set eight heating curves based on the external ambient temperature with the possibility of modifying the heating curve.
04.

Integrated bracket with the heat pump

The system of integrating the bracket with the heat pump excludes the need to purchase separate mounting systems. It also allows for the use of a full enclosure, which creates a modern design.
05.

Smart Touch display

The Smart Touch intelligent touch controller allows you to monitor and intuitively set the parameters of your heat pump's operation in real-time. The high-quality 5-inch display with high resolution makes setting adjustments very easy.
06.

Unique enclosure design

Our engineers have designed a unique housing construction that limits the unit's frosting process while making the heat pump defrosting process easier. This ensures the efficient and economical operation of the unit.
High-quality components
Our device is equipped with high-quality components from renowned brands, such as:
HIGHLY HITACHI
GRUNDFOS
DANFOSS
Heat pump cascade
The software allows for connecting heat pumps in a cascade of up to eight devices of the same type. This design provides complete flexibility in building a system with the desired capacity.
SG READY function
The SG READY function is one of the features that is built into all PLUS S LINE heat pumps. SG READY means that the pump is ready to operate in "Smart Grid" mode, which is an intelligent network.
Technical specification

Comparison of PLUS S LINE heat pumps models:

Technical Specification
TH-R290-S06-1P
TH-R290-S10-3P
TH-R290-S16-3P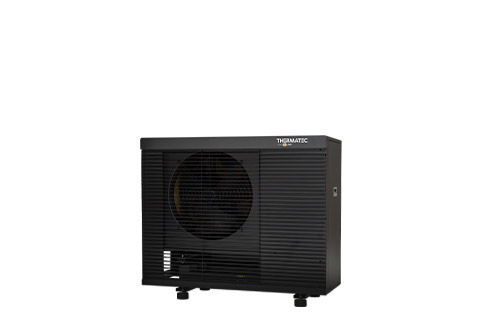 Parameters
Unit
TH-R290-S06-1P
Power supply
/
220–240V / 1N~ / 50Hz
Input power
KW
6
Heating (A7/W35)
Heating capacity range
kW
2.94 – 9.00
Input power
kW
0.61 – 2.11
Input current
A
2.80 – 9.25
COP
kW/kW
4.27 – 4.82
Heating (A7/W55)
Heating capacity range
kW
3.10 – 8.12
Input power
kW
1.03 – 2.92
Input current
A
4.57 – 12.79
COP
kW/kW
2.78 – 3.01
Cooling (A35/W12)
Cooling capacity range
kW
1.42 – 5.69
Input power
kW
0.67 – 2.44
Input current
A
3.06 – 10.27
SCOP average (THW at 35°C)
kWh/kWh
4.80
SCOP average (THW at 55°C)
kWh/kWh
3.67
Rated input power
kW
3.50
Rated input current
A
15
Refrigerant TYPE / CHARGE / GWP
- / kg /-
R290 / 0.55 / 3
CO2 equivalent
TCO2eq
0.0017
Operation pressure (low side)
MPa
0.8
Operation pressure (high side)
MPa
3.0
Maximum allowable pressure
MPa
3.2
Electrical shockproof
Class
I
Ingress protection
IP
IPX4
Maximum outlet water temperature
°C
75
Operationg ambient temperature
°C
-25 ~ 45
Water piping connections
cal
G1
Rated water flow
m³/h
1.0
Water pressure drop
kPa
20
Water pressure (min. - max.)
MPa
0.1 – 0.3
Sound pressure (1 m)
dB(A)
44
Net dimensions (L x W x H)
mm
1287 x 529 x 1054
Net weight
kg
150
Bracket
YES
integrated
NOMINAL TEST CONDITIONS
Heating (A7/W35): Outdoor temperature 7°C/6°C (DB/WB) Water inlet/outlet 30°C/35°C
Heating (A7/W55): Outdoor temperature 7°C/6°C (DB/WB) Water inlet/outlet 47°C/55°C
Cooling (A35/W12): Outdoor temperature 35°C/24°C (DB/WB) Water inlet/outlet 12°C/7°C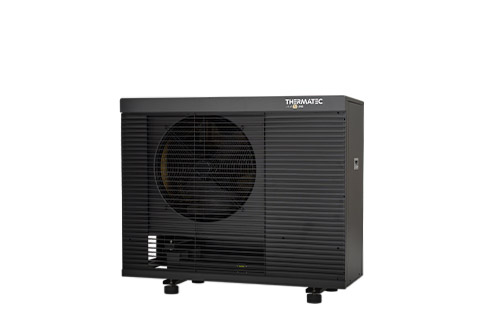 Parameters
Unit
TH-R290-S10-3P
Power supply
/
380–415V / 3N~ / 50Hz
Input power
KW
10
Heating (A7/W35)
Heating capacity range
kW
4.32 – 15.00
Input power
kW
0.87 – 3.73
Input current
A
1.78 – 6.04
COP
kW/kW
4.02 – 4.97
Heating (A7/W55)
Heating capacity range
kW
4.23 – 14.53
Input power
kW
1.45 – 4.28
Input current
A
2.84 – 6.78
COP
kW/kW
2.92 – 3.39
Cooling (A35/W12)
Cooling capacity range
kW
3.66 – 11.01
Input power
kW
1.12 – 3.97
Input current
A
1.97 – 6.30
SCOP average (THW at 35°C)
kWh/kWh
4.70
SCOP average (THW at 55°C)
kWh/kWh
3.62
Rated input power
kW
5.85
Rated input current
A
10
Refrigerant TYPE / CHARGE / GWP
- / kg /-
R290 / 1.05 / 3
CO2 Equivalent
TCO2eq
0.0032
Operation pressure (low side)
MPa
0.8
Operation pressure (high side)
MPa
3.0
Maximum allowable pressure
MPa
3.2
Electrical shockproof
Class
I
Ingress protection
IP
IPX4
Maximum outlet water temperature
°C
75
Operationg ambient temperature
°C
-25 ~ 45
Water piping connections
cal
G1
Rated water flow
m³/h
1.72
Water pressure drop
kPa
20
Water pressure (min. - max.)
MPa
0.1 - 0.3
Sound pressure (1 m)
dB(A)
46
Net dimensions (L x W x H)
mm
1387 x 549 x 1154
Net weight
kg
170
Bracket
YES
integrated
NOMINAL TEST CONDITIONS
Heating (A7/W35): Outdoor temperature 7°C/6°C (DB/WB) Water inlet/outlet 30°C/35°C
Heating (A7/W55): Outdoor temperature 7°C/6°C (DB/WB) Water inlet/outlet 47°C/55°C
Cooling (A35/W12): Outdoor temperature 35°C/24°C (DB/WB) Water inlet/outlet 12°C/7°C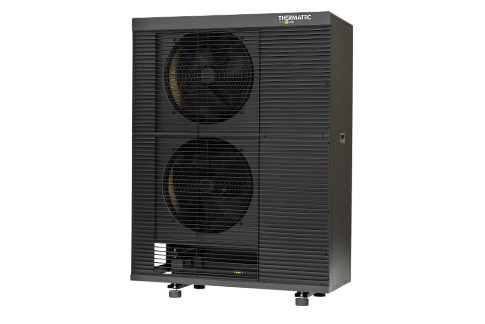 Parameters
Unit
TH-R290-S16-3P
Power supply
/
380–415V / 3N~ / 50Hz
Input power
KW
16
Heating (A7/W35)
Heating capacity range
kW
7.25 – 21.70
Input power
kW
1.50 – 5.88
Input current
A
2.82- 9.16
COP
kW/kW
3.69 - 4.83
Heating (A7/W55)
Heating capacity range
kW
6.36 – 19.43
Input power
kW
2.15 – 6.85
Input current
A
3.71 – 10.60
COP
kW/kW
2.84 - 2.96
Cooling (A35/W12)
Cooling capacity range
kW
4.56 – 17.00
Input power
kW
1.85 – 7.31
Input current
A
2.99 – 11.26
SCOP average (THW at 35°C)
kWh/kWh
4.72
SCOP average (THW at 55°C)
kWh/kWh
3.65
Rated input power
kW
10.50
Rated input current
A
17
Refrigerant TYPE / CHARGE / GWP
- / kg /-
R290 / 1.4 / 3
CO2 Equivalent
TCO2eq
0.0042
Operation pressure (low side)
MPa
0.8
Operation pressure (high side)
MPa
3.0
Maximum allowable pressure
MPa
3.2
Electrical shockproof
Class
I
Ingress protection
IP
IPX4
Maximum outlet water temperature
°C
75
Operationg ambient temperature
°C
-25 ~ 45
Water piping connections
cal
G1 ¼
Rated water flow
m³/h
2.75
Water pressure drop
kPa
55
Water pressure (min. - max.)
MPa
0.1 - 0.3
Sound pressure (1 m)
dB(A)
52
Net dimensions (L x W x H)
mm
1287 x 599 x 1704
Net weight
kg
265
Bracket
YES
integrated
NOMINAL TEST CONDITIONS
Heating (A7/W35): Outdoor temperature 7°C/6°C (DB/WB) Water inlet/outlet 30°C/35°C
Heating (A7/W55): Outdoor temperature 7°C/6°C (DB/WB) Water inlet/outlet 47°C/55°C
Cooling (A35/W12): Outdoor temperature 35°C/24°C (DB/WB) Water inlet/outlet 12°C/7°C